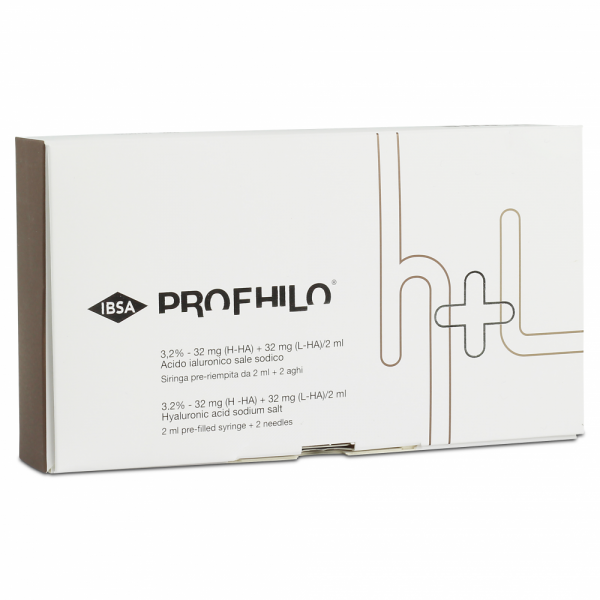 What is Profhilo?
Profhilo (pronounced: pro-figh-low) is Hyaluronic Acid at its best! FDA-approved and developed with IBSA's patented NAHYCO®technology, Profhilo® contains one of the highest concentrations of hyaluronic acid and delivers a prolonged efficacy, without the addition of cross-linking chemical agents. IBSA is a global pharmaceutical company from Switzerland and Profhilo is manufactured in a FDA- approved site in Italy.
What is it used for?
The first sign of ageing is skin laxity, and depending on your lifestyle and environment, it can set in as early as 30, and it is not always apparent to the naked eye. Laxity is directly due to reduced production of collagen and elastin and associated with a particular decrease in hyaluronic acid (HA) concentration. Profhilo is used precisely to replenished the lost HA, restoring youthful skin properties.
How is it given to patients?
It is an injectable product, injected to target the dermis of the skin. It involved a specially formulated injecting technique, Bio Aesthetic Point (BAP) that is designed to create strategic lifting and moisture to the face.
Why is it better than previous HA?
Traditional HA such as Restylane Fillers, has the properties in holding up 1000x its weight in water and is mainly used to restore lost volume in the face such as the cheeks and temples. Profhilo is different. It is a runny gel that acts more like a "tissue stimulator". Not only does it help to restore hydration from deep down the dermis, but it also "remodels" the skin by stimulating elastin, and collagen (this is proven clinically by research studies).
Also compared to the older skin boosters such as Juvederm's Volite, or Rejuran that uses hundreds of pinprick injection onto the skin (golf ball surface dimples), profhilo would only require ten injection points for the full face. One injection point of profhilo, injected into the dermis layer, will spread 4-5cm, and diffuse into the deeper layers of the skin. It means that you can walk out of the clinic and resume usual activities immediately compared to older skin boosters that would require a downtime of several days to a week.
Who is best for?
Profhilo is best for people who have dehydrated and dull skin and is too lazy to apply daily moisturisers. It is excellent for someone who is looking for rejuvenation of the skin at its most natural way, not altering any structure and shape like filler and botox. Also great for improving the quality of the skin, giving a little lift and oomph. "I would like to call it an injectable skincare, which is the latest and most exciting idea." says Dr Mavis Pak, Aesthetic Doctor from SW1 Clinic.
What is the cost?
It has only been recently approved and introduced in Singapore. But is it tried and tested in the UK and USA for the past two years.
The cost will range anywhere from SGD 600-1500 per session, which is determined by the level of experience and skill of the doctor.
Profhilo is available at SW1 clinic on 'Price on Request' basis.